FREE SHIPPING (AUS WIDE) WITH ALL ORDERS

You're in the right place for hand-packed gift boxes to make people smile.

Australia Wide free standard shipping. Express shipping available for $4.95.

All our products and packaging are biodegradable, compostable or recyclable.
---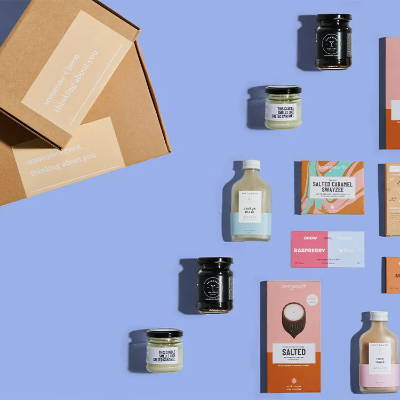 Want something a little more personalised?
Create a customised gift bundle for someone special.
---
"I sent a gift box to my sister, and she was so happy with it. Really easy gift box delivery. Brisbane delivery was only a few days!"
- Alice, QLD
"I received a Goodie for Easter, and it was such a great gift box idea! I loved it! I have since sent two Goodies to my friends for no reason at all - and they have loved it :)"
- Jamie, NSW
"thank you for the box/goodie. great little surprise gift box delivered to me in the mail"
- Hayley, NSW
"My husband loved the Easter box, and customer service was very very friendly. Thank u"
- Olivia, VIC
"Sending gift box to Melbourne was really easy. Customer service helped with delivery questions"
- Chloe, VIC
"This bundle was a really nice gift for my daughter in law for her birthday. I did add another chocolate but it was really perfect for her"
- Soraya, VIC
"SO HAPPY WITH THIS GIFT! THANK YOU!"
- Mary, VIC
We don't like nasties. That includes wasteful products like single-use plastic.
The Good Give is proudly Zero Waste, providing gift boxes with products and packaging that is recyclable, compostable or biodegradable.
We even opt for 100% post-consumable recycled products when we can!
Sign up for happy news (like discounts and cute animal pics).