FREE SHIPPING (AUS WIDE) WITH ALL ORDERS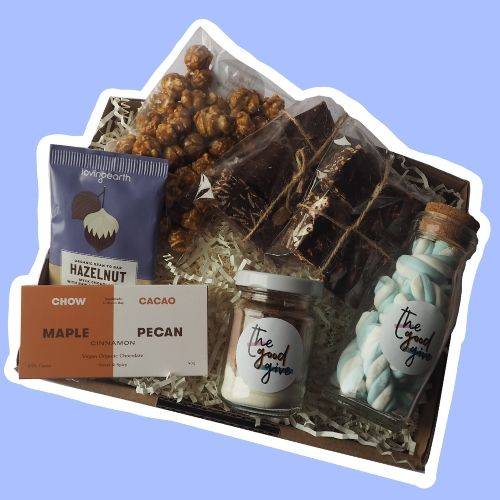 $65 (incl. free shipping)
---
Cake In A Mug
Popcorn (of your choice)
Coconut Rough Clusters
Rocky Road Chunks
Chocolate Bar (of your choice)
Hazelnut Mylk Choc Bite
Lolly Jar (of your choice)
Zero waste packaging
Hand-written, enviro-friendly card
Free Shipping
Happy Gift Box
No nasties in our gift boxes. Say 'No!' to one-use plastic and 'Yes!' to sustainable products.
Delivery
Free Standard Delivery from 2-8 business days depending on location.
1-2 business day Express Shipping for $4.95.
"Sending gift box to Melbourne was really easy. Customer service helped with delivery questions"
"thank you for the box/goodie. great little surprise gift box delivery to me in the mail"
Sign up for happy news (like discounts and cute animal pics).